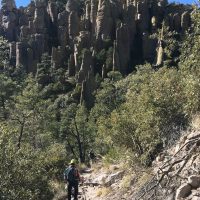 "This was our fourth hiking tour with Timberline, and once again we enjoyed great scenery, interesting history, and some outstanding hikes – and made some new friends."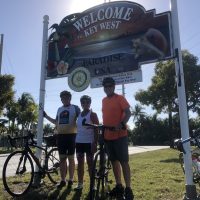 "Barb and Sharon did a great job of adjusting to the challenges from coordinating a biking trip during the pandemic."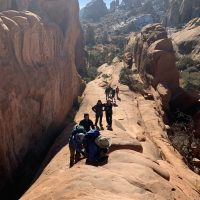 Great job by Timberline for having the pandemic policies in place and making sure clients followed them.  I would not have come on this trip if I did not think Timberline would live up to their policies.  Thanks again, Barb, for putting into place the needed safety measures to carry out this trip.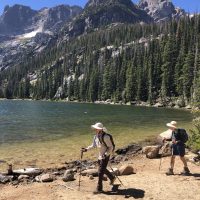 "If you like the high mountains, this is the trip!  The daily hikes are challenging, but always came with the reward of spectacular views of pristine lakes and towering peaks, often above the tree line.  And Barb always adhered to Covid protocols, so we never felt at risk.  All around great trip!"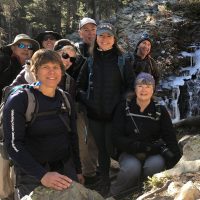 Having been absent from Timberline Adventures for a number of seasons, my husband and I returned this fall for back-to-back hikes of Rocky Mountain National Park (Weekend) followed by Taos, Sante Fe, & Great Sand Dunes NP.  It comes as no surprise that the content of the programs, the challenge and diversity of the hikes, the commitment of our guides, Cindy, Barb and George, to ensuring a quality experience, and the exceptional comradery among the guests was the top-notch experience to which we have been accustomed on past adventures.  Kudos Timberline!
Sandy and Marty B, Mine Hill, NJ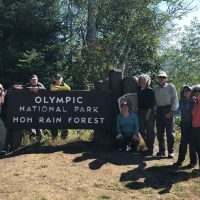 I've been using Timberline for years to provide the right combination of scenic quality and hiking difficulty that meet my needs.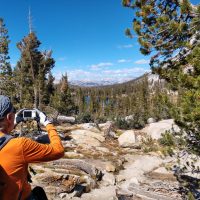 Don't miss the next appearance with the best touring company!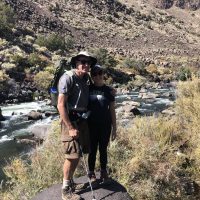 I did Timberline in 1995 and 2000 with my dad and 2018 and 2019 with my son and daughter. Look forward to doing more tours with my grandchildren (if I have them).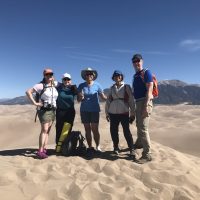 Thank you for all your hard work and for a fun, challenging, memorable week filled with beautiful scenery.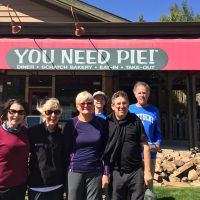 It was wonderful to be hiking back in Colorado.  The hike up in the Rocky Mountain Tundra was fantastic.  It was great to see Carol again and both Carol and George made the tour so special.. They work well together and made the tour so much fun, especially with George's sense of humor.  Loved the trip.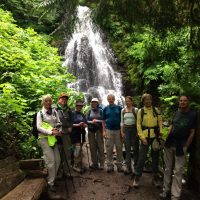 Suzi and Julie make a great team.  They went out of their way to assure our needs were met on the trial and off every day.  As a "semi-novice" some hikes were a challenge, but I wouldn't change a thing.  The opportunity to stay at Timberline Lodge was a plus for me.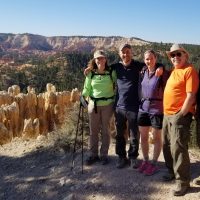 Our Bryce-Zion excursion was the trip of a lifetime.  But I also felt that way last year about Glacier-Waterton, and the year before that about Grand Canyon.  So many trips of a lifetime with Timberlineline.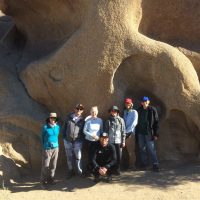 I really appreciate the personal attention that was given to me.  At my request, the guides picked me up and dropped me off at the bus station, instead of the airport.  They carried my bags to my room, called me when I overslept and was late for dinner one evening, and made extra stops to let me take pictures and to visit the park gift shop. When I told another hiker that I had sore feet, they came to check on me and make sure everything was all right.  This personal attention will never be forgotten.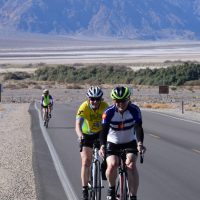 Mark and Julie were incredibly flexible in adjusting the itinerary as needed on a day to day basis.  They managed all the details perfectly and everything went extremely smoothly.  Thanks for a great trip!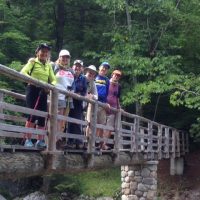 Best way to celebrate my 50th birthday!
I spent the week of my fiftieth birthday hiking 50 miles with Timberline in The Adirondacks and it was the most memorable and meaningful way for me to celebrate this milestone. Spending a week in nature and challenging my body in the company of a warm and fun group of people was the best way to usher in a new chapter of my life, one that I know will be filled with many more adventures with Timberline. This was my second trip with them and both trips have featured challenging and varied hikes, delicious food, fun people and unique accommodations. I can't wait to hike with Timberline in Ireland in 2019!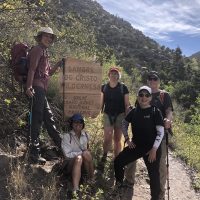 Just completed a 7-day trip the included hiking in Taos and Santa Fe in New Mexico and Great Sand Dunes National Park and Ojo Caliente Resort in Colorado. The hikes covered a wide range of scenic views that were amazing! We hiked up Gold Hill (which is located within the Sangre de Christo Mountain Range) through snow, down into a canyon to view the breath-taking confluence of the Rio Grande and Red Rivers and hiked to the High Dune in Sand Dunes National Park. It was exhilarating, challenging and fantastic. All aspects of the trip (lodging, meals, transportation between locations, additional equipment) were covered by Timberline. The only additional expense was airfare to/from Albuquerque, NM which is where the hike started and ended. Barb Hoyt was the lead guide (also owner of Timberline). Barb has over 35 years of hiking experience, she made the trip quite memorable with her vast knowledge of the region, her tips and guidance for hiking, especially at high elevations, as well as her open and inclusive personality. If you have a question…she has an answer! Barb made sure we had a great time, were well fed and felt safe throughout the trip. Her love and respect for the outdoors was awesome and contagious! Our second guide, Donna Daniell, is the founder of Balance Your Life Coaching & Psychotherapy. She coached us on personal empowerment activities around mindfulness and self-compassion periodically throughout the week. In addition, Donna is an avid outdoor enthusiast who supported each member of the group to achieve our personal hiking goals on the trip. Thank you, Donna! Our hiking group was a perfect size (total 6 people). It was a delightful group of people and a real joy to get to know each one. This appears to be the kind of people that are attracted to Timberline! Which is just icing on the cake of a week long trip. This was my first trip with Timberline Adventures, but will not be my last!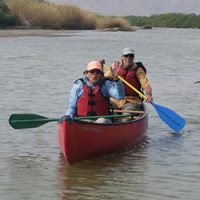 Thank you for a fabulous trip that exceeded all expectations.  Every hiking and canoeing experience was a thrill and I just felt happy to be here and to be experiencing the mountain, the desert and the river.  Everything was well organized and I was especially touched by the Easter Egg Hunt, which just demonstarted the extra mile that you are willing to go.
Big Bend National Park, April 2018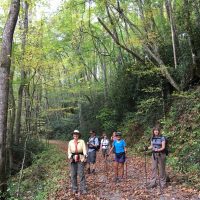 We had been doing active trips for a number of years before we found Timberline Adventures.  So happy to have found them!  Their trips are a great way to see our National Parks.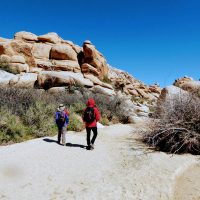 I was one of seven guests on the Death Valley hiking trip (February 15th-20th) and I would like to commend Timberline for providing a wonderful experience. Throughout the week everything ran like clockwork from the pickup in Las Vegas to the drop-off back in Las Vegas.  The daily hikes showed us the great diversity of Death Valley from sand dunes, salt flats, rock canyons and mountains. One of the highlights was the ridge walk from Dante's Viewpoint.
The accommodations at the Ranch at Furnace Creek were excellent, as were the hearty breakfasts and dinners. Lunches were put together from fixings in the guide's room, and no one went hungry. Additional snacks and water were carried in the minivan.
The guides, Jorge and Dave were first rate….helpful, knowledgeable and a pleasure to spend time with! My fellow hikers, although from diverse areas and walks of life, formed a compatible group, developing a distinct camaraderie
I am quite sure that this will not be my last trip with Timberline, and I can highly recommend the company for providing such an enjoyable trip.  Thanks!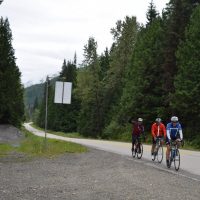 My wife and I did the Kentucky Blue Grass tour in May 2017. Beautiful area to ride and the places we stayed were very nice. Restaurant choices were also very good. Our guide, Jorge Perez, did a great job of taking care of us.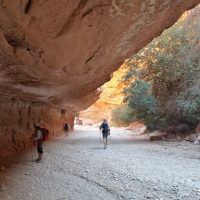 … from start to finish! Grand Canyon Rim to Rim in May, 2017. Well organized, gorgeous views and A+++ guides! Look forward to another trip with timberline in 2018! I took my first trip with Timberline last year to Banff National Park, BC- also an amazing hiking trip.