Our current trip calendar is just the start. Browse our full list of guided cycling tours across the US and Canada. If there are no current dates set for these itineraries, let us know when you want to go. Cycling tours will be added to the calendar as interest demands.
Planning your first Timberline cycling tour? Read More...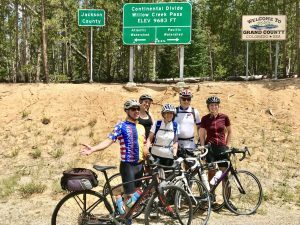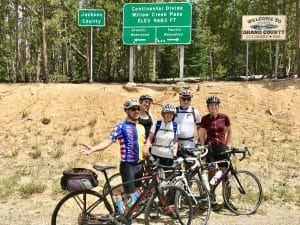 If you're planning your first Timberline Adventures guided cycling tour, here's what you can expect.
We carefully plan routes and meticulously write cue sheets to ensure safe and scenic routes and easy-to-follow directions. That is to say, if you need help along the way, be assured it's always nearby.
All cycling tours are supported by a sag wagon, a van equipped to carry bikes, luggage and guests. A dedicated sag wagon accompanies each group to provide assistance and support, including snacks, rides for weary travelers, support for flat tires and mechanical issues, and a rescue if inclement weather rolls in. A ride leader cycles with each group as well.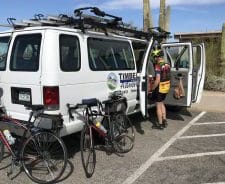 Cyclists are encouraged to ride at their own pace, and groups naturally spread out along the course during the day. The sag wagon keeps an eye on all cyclists as does the ride leader who typically rides near the rear of the group. Additionally, both the ride and the van leader carry first aid equipment and tools to ensure that potential problems are nothing more than a minor annoyance.
If you are wondering which tour is right for you, refer to our tour descriptions and itineraries which indicate total mileage and challenge level. You can also contact us with your specific questions and concerns.
So why choose Timberline? We know the best routes in the most beautiful places, and cycling "Timberline Country" may be the most rewarding and memorable guided cycling adventure you'll ever experience.