Performance Road and Cross Bikes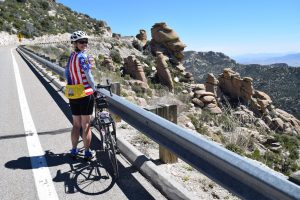 Timberline Adventures partners with Specialized, an industry leader and innovator in performance road and cross bikes, to provide rental bikes for our cycling tours. Bikes in our fleet combine traditional performace with an innovative design and geometry that focuses on optimum comfort, reducing the fatigue sometimes associated with long, challenging days in the saddle. We continually upgrade our bikes to provide as carefree an experience as possible. We provide a full range of both men's and women's models and sizes, including flat handle bar styles and less common sizes. We've included a recommended size chart, but you may also want to visit a local Specialized Dealer to confirm the size you've chosen will fit your needs. We currently offer the men's Secteur and Women's Dolce for road bikes, the Sirrus flat bar, upright bikes, and the Class I Turbo Vado e-bikes.
All rental bikes are also equipped with an anatomical touring saddle. We urge those who are accustomed to their own saddles to bring them along (without seat post) and we can also exchange your saddle for ours on your rental bicycle. Rental bicycles are equipped with odometers, pumps, tire irons, or patch kits. Our tour leaders are veterans of countless wheel repairs and eagerly look forward to every opportunity to demonstrate their speed and adroitness in the event that you experience a flat along the way. All of these comments and suggestions are intended to ensure and enhance your comfort with our bicycle on tour. If you have any questions whatsoever about rental equipment, please don't hesitate to contact us prior to the tour so that we can provide the bicycle that will best fulfill your particular needs.
Select the rental option when registering and input the number of days on tour (no charge for the orientation day). The cost will then be added to your balance statement due 30 days before the tour departure date.
Rental Bicycle Cost:  Specialized Road or Hybrid Bike – $45 per day
                                                Specialized Turbo E-bike – $55 per day
Discounted rates are available for our extended tours.  Call the office for more information
Shipping your bike to a tour:
There are a number of services to consider when planning to ship your bike ahead of time to a pre-tour hotel, these are a few of the firms that prior guests used successfully: www.bikeflights.com, www.shipbikes.com, www.sportsexpress.com and even Federal Express. When shipping to Canada, please call the shipper to understand their approach of managing the customs process.
Specialized General Sizing Reference
Men's Drop Style
Secteur or
New Diverge Elite E5

49 (5'0″ – 5'3″)
52 (5'3″- 5'6″)
54 (5'6″- 5'9″)
56 (5'9″- 6'0″)
58 (6'0″- 6'3″)
61 (6'3″- 6'6″)
Women's Drop Style
Dolce Evo or Dolce

44 (4'10 – 5'1″)
48 (5'1″ – 5'3″)
51 (5'2″- 5'5″)
54 (5'5″-5′-7″)
New 2023 Sirrus 3.0
Upright Style
XXS (4'8″-4'11")
XS (4'11"-5'2″)
S (5'1″-5'5″)
M (5'5″- 5'9″)
L (5'9″-6'0″)
XL (6'0″-6'4″)
Turbo Vado E-bike 
SM  (5'1″ – 5'5″)
MD (5'5″ – 5'10")
Note: Where two options are noted, long legged riders opt for smaller size.