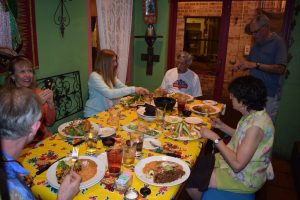 In our many years of cycling and hiking, we've discovered the secret that motivates our guests to commit their vacations to the wonders of human-powered travel. Few pursuits in life offer the opportunity, and the need to consume enormous quantities of food with impunity as do cycling and hiking. We at Timberline are not about to squander such an extraordinary opportunity.
Food = Fuel!
We consider our meals on tour to be an integral and essential aspect of our overall touring experience. We may joke about quantity — we're often thankful for the next day's climb to burn away some of the previous evening's calories. But we never joke about quality and our meals will always rank highly among your fondest recollections of a Timberline tour.
What Meals do Hike and Bike Tours Include?
The tour package cost includes all breakfasts and dinners for cycling programs and all meals including most lunches for hiking adventures. A varied menu is available at all meals to accommodate virtually every dietary preference and need. Please complete the pre-tour packet and return with any of your dietary requests. We do our best to find great local food and we strive to allow for variety throughout the week. While dining with Timberline we ask that you pay your own alcohol tab.
Although we provide lunches on hikes, (cafés and groceries are few and far between in the backcountry), we do not do so for cycling tours. Our touring philosophy encourages cyclists to ride at their own pace, without the need to be at a certain place at a certain time for lunch. Instead, at our morning meetings, we'll point out the various lunch alternatives, which may include restaurants, groceries and some thoughts on special sites for a secluded picnic along that particular day's route.