Southern Utah is a geologic fantasyland that offers some of the most fascinating and breathtakingly beautiful landscapes to be found on this planet. Nowhere is nature's workshop so dramatically displayed, where time is inconsequential and the artistry will always be a work in progress. All trails offer a unique view of the area's beauty, but if you're motivated, here's a breakdown of the absolute best trails in Zion and Bryce Canyon National Parks.
The Narrows Zion
Hiking the Narrows Zion is a bucket-list adventure and one of the most unique experiences. The Narrows, as its name implies, is the narrowest canyon in Zion Canyon National Park. The canyon is only 20 feet wide with walls over 1,500 ft. high! And, with its 5-star visitor rating, it is one of the top ten hikes on Earth! Prepare to see textured gorge walls appear to change color from reds to yellows depending on the movement of the sun. The trail is almost entirely through a river which makes for a unique challenge on its own. On Timberline's tours, we wade through the shallow river bed upstream at least far enough to sense the awesome beauty of this narrow corridor through which the Virgin River flows (about 3 miles).
Angels Landing Trail Zion
The Zion experience requires a visit to the fabled Angels Landing Trail Zion. It is a true experience and one you will remember for a long time. The trail to its soaring summit is roughly 1,500 vertical feet along the narrow fin of stone which reaches an elevation of 5,790 feet. On this Angels Landing Trail Zion, your knees may shake, your legs will burn and the view will take your breath away!
Queens Garden Bryce Canyon
Early into the Queens Garden Bryce Canyon hike, you'll understand that those who view Bryce only from the rim overlooks cannot best experience the park. Each bend in the trail reveals a view more spectacular than the last. The towering hoodoos and peek-a-boo windows are everywhere in this maze of weird and wonderful rock formations which make up the Queens Garden Bryce Canyon hike.
Sunset Point Bryce Canyon
Sunset Point in Bryce Canyon is one of the most popular viewpoints, no matter the season.
Described by the National Park Service:
"Nowhere are the colors of Bryce Canyon's rock better displayed
than from Sunset Point. Called the Claron Formation, this unique rock is primarily composed of limestone deposited approximately 50 million years ago in a large freshwater lake".
If you're a "paparazzi" like me, Sunset Point in Bryce Canyon is the best for capturing a sunrise that will take your breath away! From up here, the hoodoos look like a maze of tightly packed pinnacles of rock below you that almost don't look real.
Explore Zion and Bryce Canyon on Our Guided Hiking Tour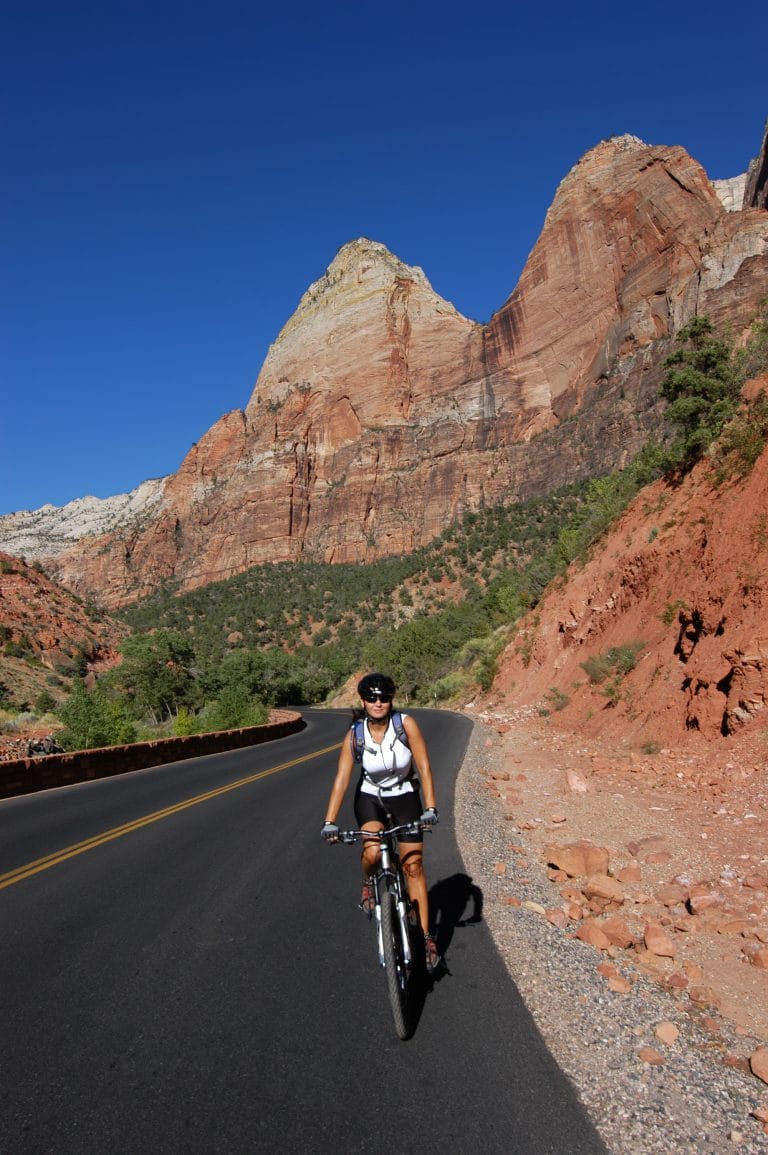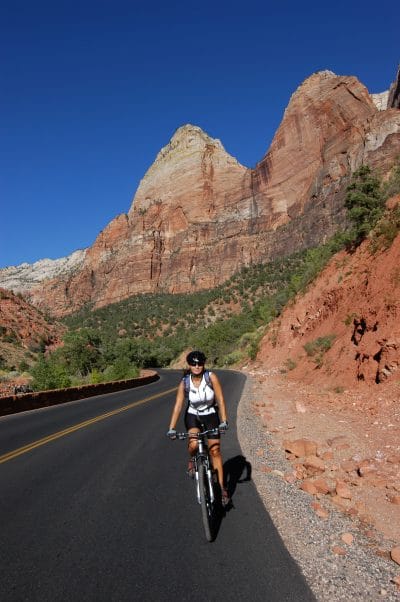 This year, we have TWO exciting opportunities to visit Bryce and Zion National Parks. In May and October, we'll explore the heart of Utah's "color country". This May we are guiding our  Timberline multi-sport adventure which includes 2 ½ days of exploring the hiking opportunities in the national parks, and 4 ½ days of spectacular cycling through these geologic features from another world. In October, we'll offer a strictly hiking tour of Zion and Bryce Canyon, with hikes to include all the must-sees, as well as some additional explorations to some lesser-seen areas.
Finally, nature's handiwork in the region lies within the protective confines of a series of national parks and monuments that are remarkably accessible. These tours are not overly strenuous, but the trails do include a bit of steepness and exposure.  If you are in good condition and not averse to drop-offs you will do fine. We hope you're ambitious enough to set forth and check this must-see destination off your list!