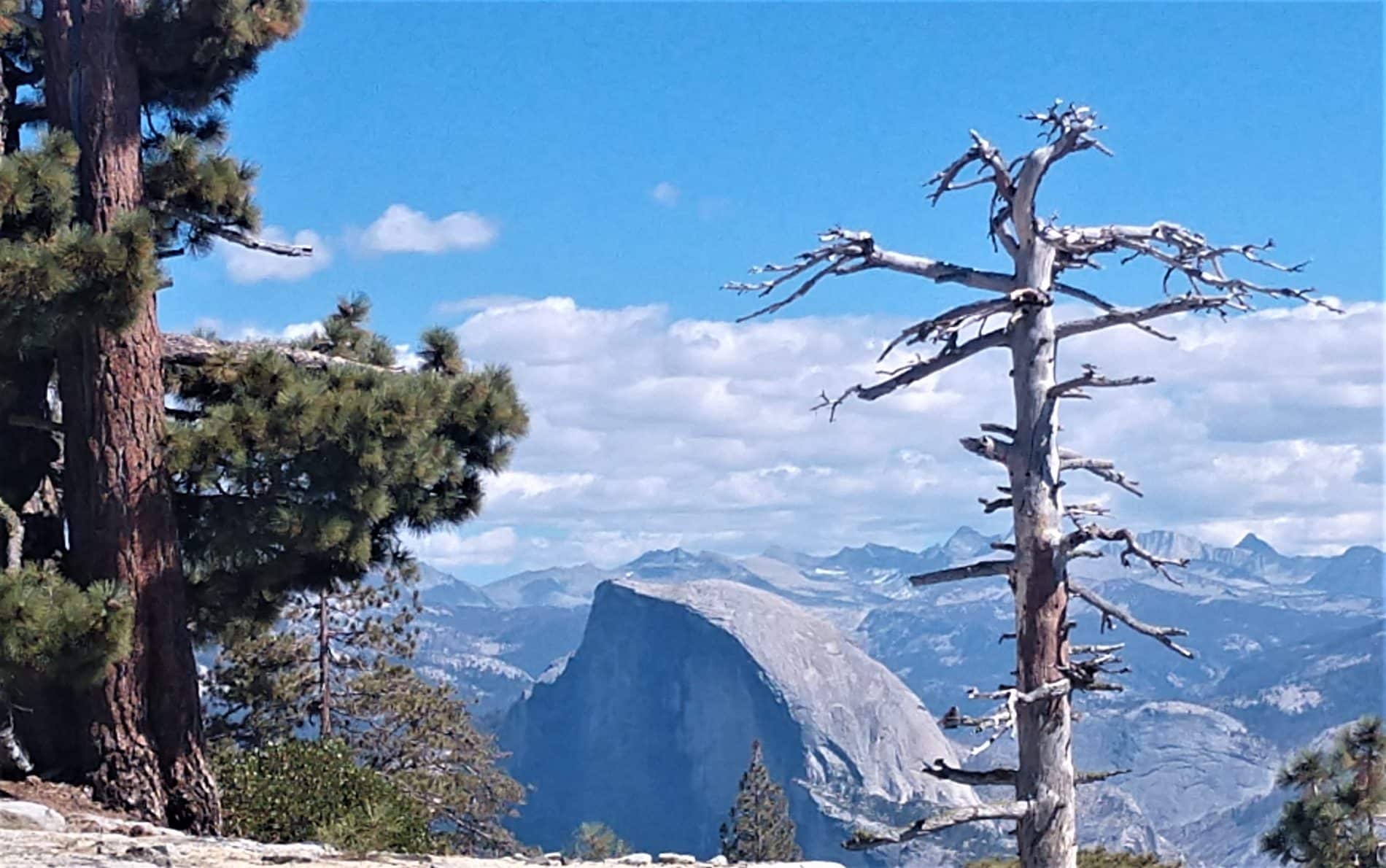 View of Half Dome from Above
You may think that you need to be a world class rock climber to reach the top of El Capitan. As the guests on our last hiking tour to Yosemite found out, this is not true.  There is a walking trail that can take you right to the precipice (ok, we didn't get too close!).  But still, this walk is not for the faint of heart.  The signs pegged the trail distance as 16.2 miles, but it seemed longer to the intrepid hikers who spent up to 12 hours to complete the point to point hike.  We started from Tamarack Flats, high on the Tioga Road, and descended on the historic Old Big Oak Flat Road.  Then we had to regain all the lost elevation, and more, to climb onto the bulge, whose iconic front face rises 36oo feet in a vertical cliff from the Yosemite Valley floor.  Our lunch break on the summit has to be one of the most scenic places in the world to enjoy a turkey, hummus, veggie wrap!
Overlooking Yosemite Valley
Alas, our trek was only half complete.  From the top of El Capitan we descended to another lookout point of Eagle Peak, then down further to reach Yosemite Creek.  Now the real fun began.  Yosemite Valley was visible from our vantage point next to the cliff's edge, where Yosemite Creek bursts into the air before its drop of 1430 ft to the next plateau.  But our route down included a slightly slower course on 2.5 miles of downhill stair stepping, across sometimes loose and sandy terrain.  The sun dipped ever lower as we picked our way from terrace to terrace, over cliff walls, and down zig zaggs of impossibly steep terrain to finally reach Camp 4.  Although not all made it down in the sunlight, the Yosemite Valley Lodge restaurant stayed open for us to refuel, re-hydrate, and celebrate this grand achievement!
Was it worth it?  You bet!  Every last knee grinding step, every laborious breath, every astounding glimpse into space, all added to our sense of accomplishment.  What a unique experience we few shared on such a secluded, ethereal roost.