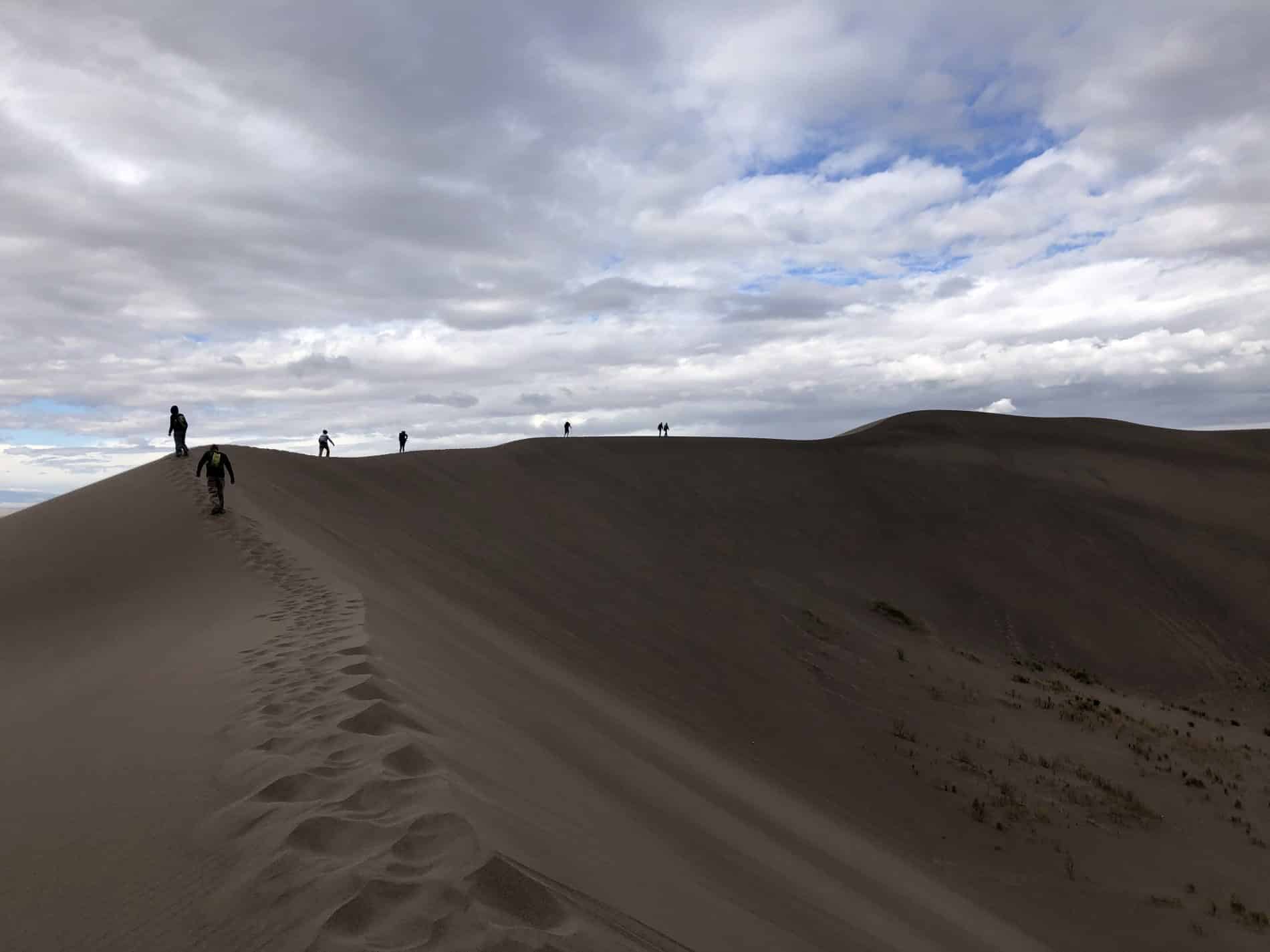 In the middle of Colorado in the San Luis valley lie the tallest sand dunes in North America.  Far from any ocean, the winds have swept across the valley of the Rio Grande and San Luis Creek, picking up sand, only to slam against the Sangre de Cristo mountains and drop their load.  The dunes rise 750 feet tall and spread out over 30 square miles.  This was the ultimate destination of our recent tour in northern New Mexico and southern Colorado.  We first arrived at the dunes in the evening and were immediately regaled with a huge sky full of stars.  The Great Sand Dunes National Park is miles from any population, and has been certified as an International Dark Sky Park.  The Milky Way was streaked across the sky, four planets were visible, and millions of stars twinkled across the entire expanse with nothing to block our view.
With such an introduction to the immensity of the area, we approached the dunes next morning with awe and trepidation.  Our goal was the high dune visible in the distance from the parking lot.  We first had to traverse about half a mile of flat sand before starting the climb – and already our calves were straining from the movable surface.  Step by step, we made our way up the slopes, across the valleys, and onto the high ridge.  There are tricks to walking in sand that make it easier – but not easy!  Some questioned their endurance and drive to make the high point, but with encouragement we eventually gathered on the pencil thin ridge-line for a summit photo!
But what about the singing?  This we experienced on the way down.  When enough sand avalanches down a steep slope, compressing the air against the moving sand, an audible vibration can develop, sounding like a moan in low tones.  By learning to plunge step down the steepest slopes of the dunes, we created this phenomenon and were rewarded with the dunes singing back to us.  It was a surreal experience and a highlight of the week long trip! In fact it was gratifying enough to want to climb up again, but a storm was coming and we dove into the van as the first raindrops came down.
You never know what unique experience or lasting memory you will have on a Timberline adventure, but we guarantee you will have stories to share after your tour!  Join us next time.