If you're in the market for new hiking boots, my word of advice is "PATIENCE." Take your time and don't settle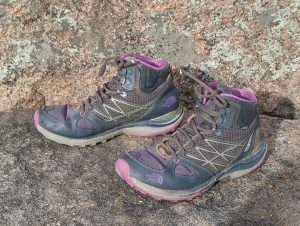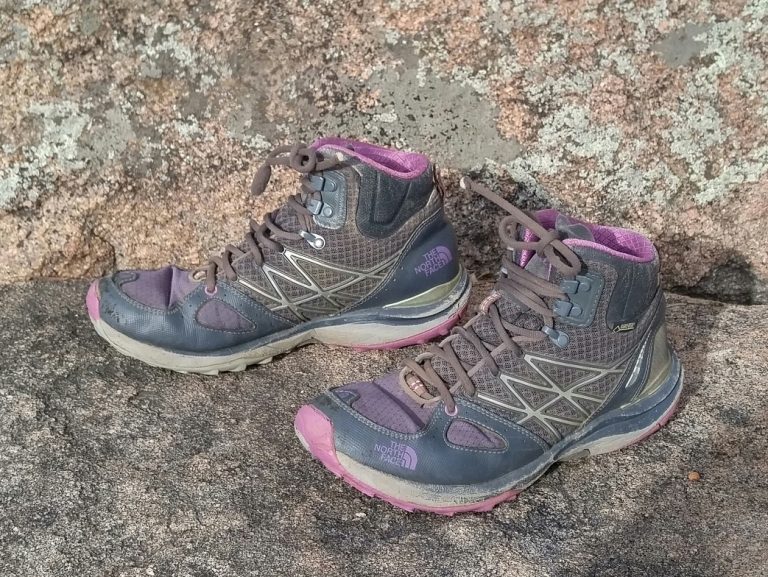 My old hiking boots have been faithful companions for years; they've accompanied me on many excellent adventures, and kept my feet warm, dry and comfortable mile after mile. But now, the tread is gone, the stitching is disintegrating, and the waterproof finish doesn't even repel water. It's time for them to go.
I wanted to replace my boots with an identical pair, but North Face no longer makes this style (I should have bought two pairs), and so, I started looking.
Choosing the perfect hiking boots is hard work! They're expensive and they last a long time, and, they've got to get you through your hike and back to the trailhead with happy feet. Over, and over, and over again.
Here are five things I learned during my search.
Maybe this information will help you when it's time for you to replace your boots.
It's best to try on boots after a hike or at the end of the day, as feet tend to swell during the day.
Try on the boots without socks and walk around the store to see if there are any hot spots or if they rub anywhere.
Before you even lace up the boots, slide your toes forward as far as possible and see if you can slide your index finger in behind your ankle. That extra room protects your toes when walking downhill.
You don't want your ankle to move around in the boot. If the ankle fits snugly, you'll likely to avoid blisters.
Bring in the thickest – and the thinnest- socks you'll likely wear with the boots.
I tried on pair after pair in my quest for the perfect pair, but one was too big, another too wide, another too stiff…
As the shoe boxes piled up around me, I explained to the salesperson that I was waiting for that "Goldilocks Moment," the moment when you slip the boots on your feet and they feel just right. She clearly understood what I was talking about.
And then it happened.
I discovered Oboz, a brand I was unfamiliar with, and the last pair I tried. Lucky me! As soon as I slipped them on, I knew that they were just what I was looking for. Snug, but not tight, room to wiggle my toes, lightweight, flexible…and oh so comfortable!
If you're in the market for new hikers, my word of advice is "PATIENCE." Take your time and don't settle. You'll likely know as soon as you've got the boots on if they have the potential to carry you far and wide, and to keep your feet warm, dry and happy on all your upcoming adventures.
Happy Trails!