EXPLORE AMERICA BY BICYCLE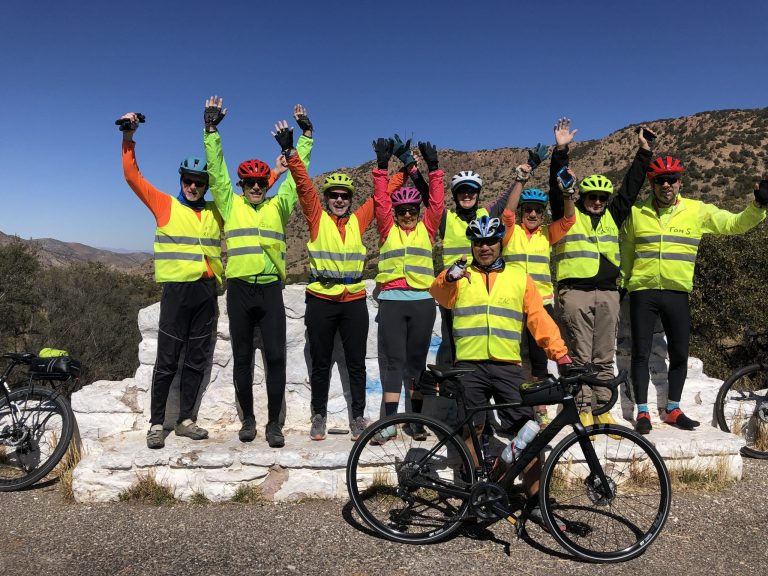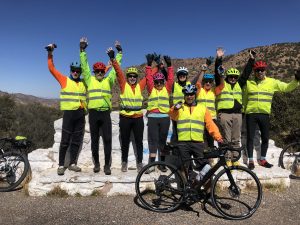 From Sea to Shining Sea. Come explore some of America's mountains, deserts, prairies, bayous, citrus groves, and more. As you pedal east on this cross-country bicycle tour towards the rising sun, you'll be treated to the views that have made this journey across the nation one of the most iconic trips in the entire world. You'll find yourself singing about purple mountain majesty and amber waves of grain as we bicycle through landscapes that the lyrics characterize
California → Arizona
To begin our epic cross-country cycle, we'll convene on the Pacific shores of the southwestern United States in San Diego. Once we leave the city, we'll climb out of the valley heading towards Arizona, where we will bicycle through the beauty of the desert towards Tucson. After Tucson, we will head into the Old West, including Tombstone, known as the town "too tough to die". Already, you will have witnessed a dramatic shift in landscapes, history, and local culture.
New Mexico → Texas
Beyond Arizona is your third state: the Land of Enchantment. In New Mexico, you will be riding in the valley of the Chiricahua Mountains on roads with little to no traffic where you can seemingly see forever. You will spend the night in the town whose claim to fame is being invaded by Pancho Villa.
From the open flat spaces of New Mexico, it will be time to tackle Texas. Ah, Texas, the BIGGEST state in the contiguous US, which is a fact you will surely remember after this tour. While traveling across the whole southern US, 40% of your adventure will be spent in this one single state. From the flats of West Texas, through the Hill Country of mid-Texas, followed by the rolling hills of Eastern Texas, you will be amazed by the constantly changing scenery of this state. We'll be riding through Texas as the wildflowers bloom.  And we have scheduled the tour to take full advantage of the next Total Solar Eclipse!
Total Solar Eclipse
The next Total Solar Eclipse in the United States occurs on April 8, 2024.  The path of totality passes right through central Texas and we will be there.  We will have a layover day during the eclipse so that we can experience the surreal phenomenon in its entirety!  Viewing glasses included.
Louisiana → Florida
After tackling Texas, you'll be rewarded with Cajun country. Spending almost a week in Louisiana will allow you to fall in love with Cajun food and Cajun music!
From Cajun country, it takes two days to cross Mississippi and another two days to cross Alabama. Crossing from Alabama to Florida will require a ferry across Mobile Bay, and then you'll find yourself in your eighth and final state: the Sunshine State of Florida.
Don't be too disappointed when crossing into Florida — you still have lots of riding ahead of you and plenty of things to see and do before arriving at the white sand beaches of St. Augustine! In fact, year after year, some of our riders' favorite days on the saddle have been in Florida where they have been particularly awed and surprised by the beauty of the northern part of the state.
After more than a decade of hosting this cross-country cycling tour each year, we can promise you that the route, the stops, the views, and the overall experience of this adventure will be unforgettable!
Cities on Our Cross-country USA Cycle Route:
San Diego, CA
Yuma, AZ
Tucson, AZ
Douglas, AZ
Columbus, NM
El Paso, TX
Del Rio, TX
LaGrange, TX
DeRidder, LA
St. Francisville, LA
Poplarville, MS
Dauphin Island, AL
Pensacola, FL
Tallahassee, FL
St. Augustine, FL
WHAT'S INCLUDED?
Fully supported! The staff does all the work for you, including setting up camp, delivering your luggage, and SAG stops every 20-25 miles
Staff gratuity is included in the price
Camping equipment, including: Tent, Air Mattress, Deluxe Camp Chair, Towel and Wash Cloth Daily
Chill zone each afternoon with shelter, food and beverages where you can relax and recount the day's adventures
Electronic charging station for lights, cell phones, iPads, computers, Garmins, etc.
Baggage transportation daily
Detailed routes via the RideWithGPS Experience
Showers
Drinks, snacks, and other items you might need along the way, in each SAG vehicle
All lodging fees, including hotel costs for 25% of the overnights
All breakfasts, all dinners and some lunches: Freshly prepared by a professional chef. Yes, a professional CHEF traveling with the tour! It's the best food you will ever have on a bike tour, we promise.
Staff who know how to take care of cyclists!
Laundry service
Yes, we even do your dirty laundry twice a week!
Coast 2 Coast Cross-Country Bicycle Tour cycling apparel
Traveling bike mechanic
Secure free long-term parking in St. Augustine, if needed
Transportation from San Diego Airport to host hotel
Fun surprises
Great memories
New lifelong friends!
WHAT'S NOT INCLUDED?
Hassle
Transportation to the start in San Diego or from the end in St. Augustine. We do provide a shuttle from the San Diego airport to the pre-tour hotel for two days before the tour.  There are private shuttle services available in St. Augustine to the airport
Most lunches: we encourage you to support local businesses for food stops along the way
Bicycle rental; this is available from Timberline Adventures at an additional cost. We are a specialized dealer and can offer a Secteur road bike, a Diverge gravel bike, or a Sirrus upright. Please CONTACT US for more information.
Bike shipping to San Diego:  We partner with Bernie's Bike Shop in San Diego.  They will receive your bicycle and will assemble it for a small fee.
Bike shipping from St. Augustine:  We partner with A1A Cycle Works where arrangements can be made for shipping your bike back at the end of the tour. 
First night and pre-tour lodging in San Diego before March 12th, 2024
Post-tour lodging from Friday, May 3rd, 2024, in St Augustine, FL
| | | | | | |
| --- | --- | --- | --- | --- | --- |
| (Gratuity included) | Before May 15 | Before July 1 | Before September 1 | Before November 1 |  After November 1 |
| Single, Regular Tent | $12,740 | $13,140 | $13,540 | $13,940 | $14,340 |
| Single Dome Tent | $12,990 | $13,390 | $13,790 | $14,190 | $14,590 |
| Double – Shared Dome Tent – per Rider | $12,690 | $13,090 | $13,490 | $13,890 | 14,290 |
WHY TRAVEL WITH TIMBERLINE ADVENTURES?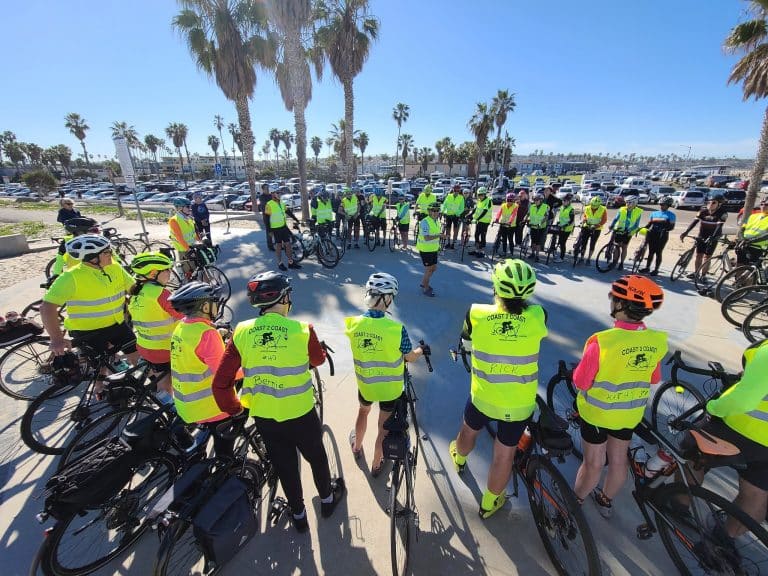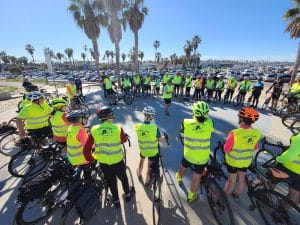 Wondering what Timberline Adventures will do for you on this Coast 2 Coast Tour? Essentially, we do everything except ride your bike. Half the nights, you will be sleeping in a quality tent provided by the tour while the other half will be non-tenting nights spent in hotels, cabins, and school gyms.
But don't worry: you will not be dealing with any of the hassles of camping. That is our job! We do all the work, remember?
Our staff will have your quality Kelty tent awaiting your arrival daily. Inside your tent will be a thick air mattress already inflated. Your baggage will already be delivered and waiting inside your tent. A deluxe camp chair placed under the shade of a group of E-Z Ups awaits you, along with a cooler full of all sorts of drinks and a variety of snacks.
In the morning, just zip up your baggage and head to the breakfast table. Is there anything better than the smell of fresh coffee and the sight of morning pastries, fruit, yogurt and the energy lasting pot of oatmeal in the middle of nowhere?
After breakfast, air up your tires and start the next day of your fully-supported cross-country bicycle tour. It's that simple!
Will every day be blue skies and downhill rides? We can't promise that. The wind will blow, the temperature will rise and fall, the road surface will vary. But, as you dip your front wheel into the Atlantic Ocean in St. Augustine, these challenges and adversities will no longer matter.
What will matter is what you have just accomplished: you will have actually bicycled coast to coast across the entire United States of America. That's something truly extraordinary!
So, go ahead and dip your rear wheel into the Pacific Ocean. From that moment until you dip your front wheel into the Atlantic Ocean 53 days later, we'll take care of everything.
We want to make sure this tour is the right tour for you. Please feel free to give us a call to chat about the tour and make sure it best meets your needs:
Call 1-800-417-2453