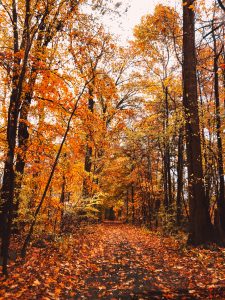 Fall Leaf-Peeping Trips
When you want to #optoutside this fall, we've got you covered. Here are my favorite places to chase the leaves around the country from now until Thanksgiving, from the East to the West, for all the travelers in your life.
Green Mountain Byway
First, is this 11-mile drive through northern Vermont, you'll be treated with a spellbinding show that unfolds over three state parks. The Green Mountain Byway offers four-season access to Vermont's premier outdoor recreation region. With an abundance of public lands, the possibilities are endless. Top off your weekend by visiting a local farmer's market and be sure to grab some award-winning maple syrup!
If you love the east coast in the fall, check out next year's  Odyssey 2021 – East Cost Greenway tour. Fifteen states, 450 cities & towns, and 3,000 miles from Maine to Florida on this biking route. Now, this is an amazing opportunity for an epic adventure!
Appalachian Foothills of North Georgia 
Fall foliage isn't usually your first thought when you think of Georgia, but one look at the blushing leaves deep in the Chattahoochee National Forest and you'll find yourself stricken with delight. Here, you'll find the colors are a truly unique part of our country. Our first spot is The Blue Ridge Scenic Railway is a four-hour, round trip journey along the Toccoa River through the countryside. Here, you will wind along the beautiful river in passenger's choice of vintage, climate-controlled, or open-air rail cars. On this fall-leaf peeping trip, you'll stop along the way in the quaint sister towns of McCaysville, Georgia, and Copperhill, Tennessee.
Michigan's Mackinac Island
This is a place with no chain hotels and no cars which make an ideal vacation spot. The island is sandwiched between the Upper and Lower Peninsula on Lake Huron. Here, cyclists can rent a bike near the ferry exit and hit the tree-lined coastline. A quick bonus for you, starting on Sept. 30th and continuing through the rest of the 2020 travel season, visit Mackinac Island and complete one of the four fitness challenges to earn a #GetFitOnMackinac water bottle.
The San Juan Skyway
Anyone who has had the opportunity to drive this part of Colorado knows this area is impossible to improve upon. The San Juan Skyway is a 236-mile scenic drive that connects Durango, Silverton, Ouray, and Telluride. This spectacular drive offers a taste of the state's captivating southwest glory. Lastly, we recommend a stop at the Ouray Hot Springs. After that, you'll know exactly why you made the journey!
When you plan a midweek trip or head to an off-the-beaten-path destination and you are bound to find gorgeous autumn scenery. Book the trip of a lifetime with Timberline Adventures!