How to pack snacks for your day on the trail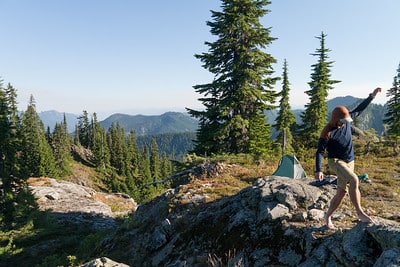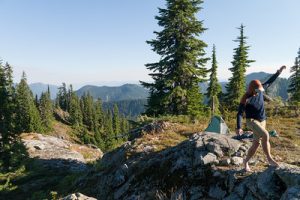 The best part about hiking the great outdoors is the food, right? Wrong. Trail snacks aren't usually top of the list when it comes to the perks of hiking, but it doesn't have to be a chore either. Knowing the science behind what you pack and the appropriate proportions can ease the morning-of chaos that comes with throwing snacks into your bag. Here's what you need to know for your next trip.
Before diving into the goodies, we have to tackle the science behind why/how much fuel our bodies need. Numerous factors go into the number of calories burned on a hike. Body weight, distance, elevation gain, terrain, gender, weight carried – the list can go on an on. On average, however, research suggests that a 160 lb person will burn between 420-450 calories/hour when hiking. This means that if you're in for a longer distanced hike, your body is going to need some serious fuel to keep moving. 
Enter: snacks. Knowing your body needs fuel is great and all, but where do we begin with what to bring and how much? A general rule of thumb to stick with is to pack carbs, fats, and proteins. This trio will restock your body with the energy and nutrients you need to make up for the hard work you're putting in. 
Now let's dive into each category and some ideal options to fulfill your fuel needs.
Carbohydrates
Carbs will give you quick energy, and is the primary energy source your body will be craving during your hike. To stay fueled, you should eat between 30-60 grams/hour (120-240 calories). Some great options to bring would be granola, granola bars, pretzels, fresh fruit (apples, bananas, oranges), or dried fruits.
Fats
Adding fats to your hiking lineup will give you energy for prolonged, slower distances, as they take longer for your body to process. These snacks will also fill you up quicker, so there's no need to overextend yourself on packing these items. Solid options include nuts, trail mix, nut-based bars, or nut butter packets to pair with your fruit.
Proteins
Lastly, your proteins will help repair tired muscle and regulate your metabolism on your trek. Dependent on body weight and length of hike, you'll need between 125-150g of protein to keep fueled. Great ways to get these nutrients are beef jerky, ready made tuna salad packets, string cheese, poultry jerky, and even just in protein bars. Some of our favorites are these RxBars.
Now that you know the best snacks for hiking, its time to get out there and get moving. Looking for some stellar itineraries? Check out our tour calendar for some inspiration on where you can be joining us this year!