The East Coast Greenway connects 15 states, 450 cities and towns for 3,000 miles from Maine to Florida. Timberline Adventures will be the first company to offer a fully supported, end-to-end ride on the entire length of the East Coast Greenway. One thing that makes this route special is that much of it is completely off the street. Hybrid or gravel bikes are perfect for this epic ride. Traditional road bikes with some wider tires can also work, and Timberline Adventures offers rentals.  No matter your steed, there is a fabulous adventure ahead. There are too many unique and interesting places on our adventure to name so we've narrowed our list to 7 of the amazing sites we'll experience on the East Coast Greenway.  
Marblehead, MA
We ride the coastal road for the entire length of New Hampshire's Atlantic shoreline and enter Massachusetts for our first layover day in Marblehead. Stroll the old neighborhoods, watch the yachts and feast on seafood – you've earned it. While in Marblehead, enjoy the ocean views, vibrant fall foliage and fantastic seafood.  If you are a birder, you'll appreciate the fall migration of warblers, Scissor-tailed Flycatcher and Sandhill Crane. 

Schuylkill River Trail
The highlight of the Greenway's route through Pennsylvania is traveling along the Schuylkill River Trail (pronounced SKOO-kill) which runs through the heart of Philadelphia. The trail passes through rural, agricultural, suburban, urban, and industrial landscapes.
Here, you'll find rich history, monuments of liberty, and, of course, the Philly cheesesteak! Check out this guide of the best cheesesteaks in Philly. 
Washington, DC to Clarksville, VA
The Capitol Building, Supreme Court and Library of Congress are a short walk around the corner from where we will stay at the Capitol Hill Hotel in Washington, DC. Twenty miles south of Washington, D.C., at the confluence of the Potomac and Occoquan rivers is Occoquan Bay National Wildlife Refuge.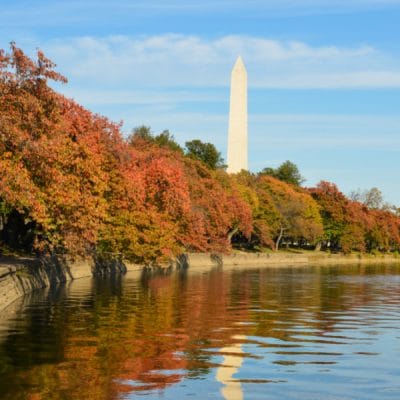 Here, you'll find an oasis where migrating birds and busy city residents both seek a quiet escape from development. Riders will watch wildlife drawn to the one-square-mile refuge, a sanctuary in an urban setting.
Find out why Virginia is for Lovers when we pass through Clarksville, VA, known as an outdoor enthusiast's paradise. This peaceful atmosphere offers quaint shops, home-style cooking and a small craft brewery, Buggs Island Brewing, voted the best brewery in VA. It's a very small-town and that's what makes it so unique and inviting!
Cape Fear River Trail – Bladen Lakes State Forest – Elizabethtown – White Lake, NC
The Cape Fear River Trail is a 10-foot-wide paved path that winds for nearly 5.5 miles, one-way, through a beautiful blend of trees, plants and wildlife with spectacular views of the river. In addition to the wooden bridges, there is over 1,000 feet of boardwalk through the marsh and wetlands. In addition, there are interpretive signs explaining the wildlife and plant life found in the area. 
Next, we'll pass through Elizabethtown, NC. Here, you'll find an aura of charm and southern hospitality that is truly unique. Located seven miles from Elizabethtown, White Lake is a true phenomenon of nature. 
When you visit White Lake, you'll feel like you're on a tropical island because of the lake's white sand crystal clear water. It's unlike anything you'll see at most other lakes, due to the fact that the lake is fed by subterranean springs.
Wonder's Way 
The Wonder's Way Bridge makes our list of 7 amazing sites along the East Coast Greenway because it offers stellar views that span from the Isle of Palms to Folly Beach, South Carolina. A must-see for Charleston biking enthusiasts is at the top for a unique bird's eye view of Charleston Harbor. 
For an authentic taste of South Carolina, make sure you try a bowl of She-Crab soup, a specialty of the area. South Carolina has countless opportunities to showcase its history, heritage and natural beauty of the coastal Lowcountry.
Amelia Island, FL
One of Florida's lesser-known destinations, Amelia Island, is the Florida beach with a Southern accent. A timeless destination known for pristine nature and uncrowded beaches. It's truly a slice of heaven!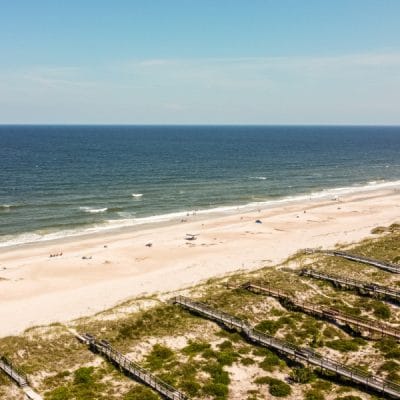 Here, we stay at the boutique-style hotel, the Amelia Hotel, just steps away from the island's quartz-sand beaches. In addition to the pure beauty of Amelia Island, it also claims some of the state's most historic locations. You'll find the oldest bar, oldest inn, oldest lighthouse and oldest newspaper! 
The Florida Keys Overseas Heritage Trail
The last of the seven amazing sites along the East Coast Greenway, the scenic Overseas Highway. You're in the home stretch now as you pass over calm, turquoise waters through a paradise of palm-studded subtropical islands. The Florida Keys Overseas Heritage Trail uses a combination of bike paths, side paths along US-1, and bike lanes on US-1 to connect the Florida Keys together. 
Furthermore, it follows the route of the Overseas Railroad and still uses some of the historic bridges. We'll pass award-winning Bahia Honda State Park, known for balmy sea breezes and emerald-clear waters. 
We'll enjoy a celebratory dinner at the ultimate end of our 3,000-mile journey in one of the most unique places in America: Key West, FL. Here, you'll find roosters roaming the streets, claims to the best key lime pie in the world, and sunsets that majestically sink into the Gulf of Mexico. 
Everyone is ready for a return to face-to-face events. What better way to celebrate the end of summer (and make memories!) with a ride along the coast of America! Timberline Adventures has been offering hike and bike tours throughout the United States and Canada for over 39 years. Check out our adventure tour offerings, or work with us to design a custom trip.